Home » Automotive
Interesting Sbarro Evoluzione from Geneva 81st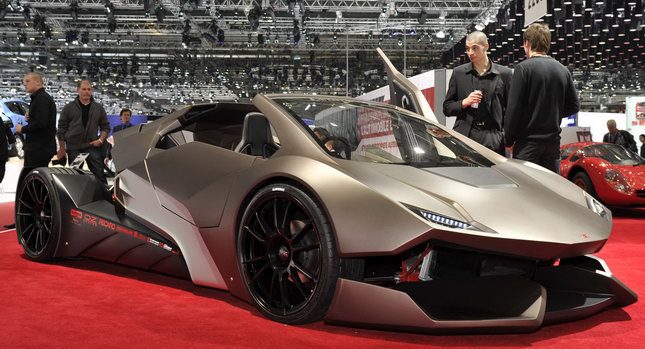 Swiss automobile builder Sbarro, in league with the Espera Sbarro design school, has brought a very interesting concept to the Geneva Motor Show this year: the Evoluzione. The prototype seen here is an eye-popping mix of various themes: it takes Lamborghini's recent efforts at making drivable razors, puts in aspoonful of motorcycle, and then adds McLaren F1-style seating.
Sbarro's Evoluzione took thirteen weeks to complete with twenty-five students working in teams on both the engineering and design sides of the project. Pierre Guenebaut, a teacher at the design school, explains, "Being present at the Geneva Motor Show is a reward for them. They will have the opportunity to explain their project to the public while investing in relationships and communication."
The delightfully naked rear end houses a 180 horsepower 1.8T sourced from Audi. In front of the engine are three staggered Recaros with the driver front and center, flanked by two "wingman" passenger seats.
source | carscoop.com
Our thoughts? Interesting take on the Lamborghini form. It seems more fitting to be a Lamborghini concept rather than a standalone design from Sbarro. Great work from a group of students!
Several points:
Exhaust portion looks unique
Visible chassis adds dimension
Engine could be larger displacement perhaps even the 2.0T FSI from the newer Audis.
Front brakes need to be much larger – Brembo big brake upgrade
Wingman seating is great a la McLaren F1 but the interior could use more texture and material
Wonder how it drives!
Tweet